Ductless HVAC Service, Ductless HVAC System Installation & Ductless HVAC Repair
Marysville, CA, Yuba City, CA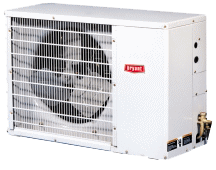 Andy's Heating & Air provides versatile solutions to any temperature control requirement in Yuba City, CA and surrounding areas.  Through the installation and service of a compact and efficient ductless split system, we deliver perfect comfort, right where you need it.  Mini and multi-split air conditioners and heat pumps are quickly installed, usually in a single day, and require no lengthy or intrusive renovation project.  Streamlined, attractive indoor units are lightweight and can be mounted high on the wall, near the floor, or even suspended from the ceiling.  Operated from an independent thermostat, these systems allow you to customize comfort in specific rooms and avoid conditioning empty spaces.  For single or multiple room application, Andy's Heating & Air matches your requirements to the ideal ductless system, enhancing the usability and enjoyment of your home.
Dependable Ductless HVAC System Installations
Having earned recognition as a Bryant Factory Authorized Dealer, Andy's Heating & Air draws from strenuous training to properly handle every stage of installation and follow-up service.  We match style, size, mounting location and innovative features to your specific expectations.  Let us achieve your goals for energy efficiency, ease of management, and overall cost.  With innovations such as wireless remote, WiFi accessibility, programmable operation, inverter technology, and sophisticated filtration, your ductless system will simplify your life, improve air quality, enhance comfort, and save you money each and every month.  Whether you are interested in new installation, retrofit, seasonal maintenance, or prompt repair, Andy's Heating & Air provides exceptional service.  For a firsthand look at these rewarding heating/cooling options, stop by our showroom.  We look forward to answering any questions you may have and helping you to complete your project to your satisfaction.
Ductless HVAC System Installation • Ductless HVAC Repair • Ductless HVAC Service